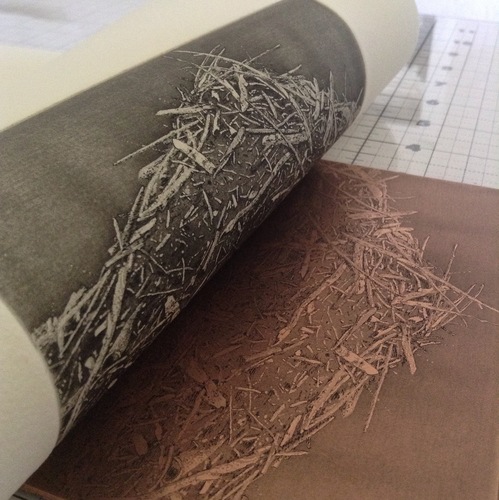 Anita Hunt is an artist/printmaker based in Massachusetts, USA. She grew up in Ohio and studied art at Antioch College in Yellow Springs, OH, and at the School of the Museum of Fine Arts, Boston, MA. She is a long-time practitioner of green printmaking and has been an active member of Zea Mays Printmaking studio since 2001. Her copperplate etchings, engravings and monoprints combine traditional techniques with safer materials and processes. She maintains a private studio in her rural New England home and exhibits internationally.
Anita is an elected member of the Society of American Graphic Artists, the Boston Printmakers, the Los Angeles Printmaking Society, and a Past President of the Monotype Guild of New England. Her images are featured in professional journals, textbooks and literary publications. She regulariy participates in international printmaking exhibits, biennials and exchanges and has received numerous honors and awards during her long career. Her prints are held in private and public collections in the US and abroad.
Permanent collections include: The New York Public Library; Smith College Museum of Art; Yale University Art Gallery; the Boston Public Library; Portland Museum of Art, Maine; University of the Arts, Philadelphia; Tama Art University Museum, Tokyo; DeCodova Sculpture Park and Museum; Hood Art Museum, Dartmouth College; Wheaton College Art Museum; Douro Museum, Portugal; San Alejandro Academy of Fine Arts, Havana, Cuba; Tsinghua University, China; Weisman Art Museum, Minneapolis; Bradbury Art Museum, Arkansas; Syracuse University Art Galleries; Newark Public Library Special Collections; Blick Art Collection; L'Association Mouvement d'Art Contemporain, Chamalieres, France, and others.
A selection of current work is available through the
Zea Mays Printmaking Flat File Project
.