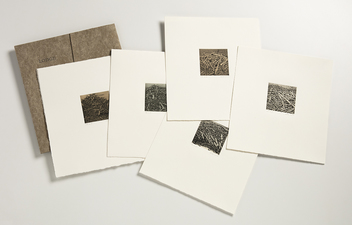 Lodge Portfolio
Lodge Portfolio
A suite of 7 copperplate etchings with aquatint printed chine collé on a variety of handmade Japanese gampi, with backing sheets of Magnani Pescia paper. Housed with a colophon in a handmade paper folder with foil-stamped title. Printed as a variant edition of 5, each folio contains a unique paper combination.
image size: 3 x 3 inches, page size: 11 x 10 inches, folder size: 11 1/4 x 10 1/4 x 1/4 inches, closed
Edition of 5 variant
AVAILABLE for $700.

---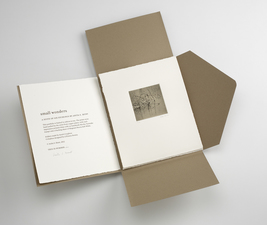 Small Wonders Portfolio
The Small Wonders Portfolio is a suite of six, 3 x 3 inch etchings printed chine collé on handmade Bicchu Torinoko Gampi onto backing sheets of Magnani Pescia Soft White paper measuring 9 x 7 3/8 inches. The prints are housed in a foil stamped folder of heavyweight warm gray paper along with a numbered colophon. Outside dimensions are: 9 1/4 x 7 1/2 x 1/4 inches. Edition of 10. Available for $600.
In the collection of: Smith College Museum of Art
---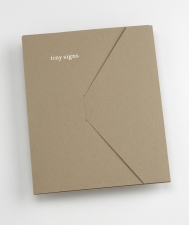 Tiny Signs Portfolio
The Tiny Signs Portfolio is a suite of five, 2 1/4 x 2 1/2 inch etchings printed chine collé on handmade Echizen Gampi onto backing sheets of Magnani Pescia Soft White paper measuring 9 x 7 3/8 inches. The prints are housed in a foil stamped folder of heavyweight warm gray paper along with a numbered colophon. Outside dimensions are: 9 1/4 x 7 1/2 x 1/4 inches. Edition of 10. Available for $500.
In the collection of: Private Collection